Arming yourself with a hammock of the highest quality and, of course, comfort is all perfectly fine. But let's face it, whiling your time away in suspended luxury is only half the experience – the location completes the scene.
The world is filled with much loved white or golden sandy beaches. But which ones are the best? Which ones can meet your expectations, as well as accommodate your hammock? We've put together a list of 5 of our favourites, where beach bums can laze the most memorable days away.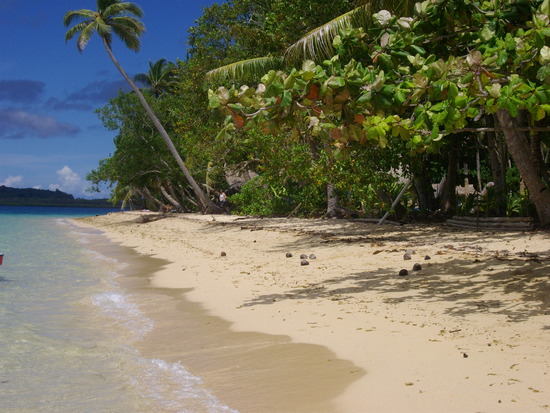 Caqalai Island, Fiji
A tiny island of just 14 acres, Caqalai is ringed by one of the most tranquil beaches around. The island, a haven for backpackers, accommodates no more than around a dozen or so tourists at a time, so if you're looking to make a blissful escape amid the pacific blue, there this is the place to be.
But while other tourists destinations are developed to cater to their guests' needs, this is where the visitors are invited to experience genuine Fijian life. You can play volleyball with the locals, listen to and jam with local musicians, and enjoy a bonfire under the stars. Laid back is not the word for it, so lying all day in a hammock, having your troubles soothed away with the tidal backwash, is par for the course.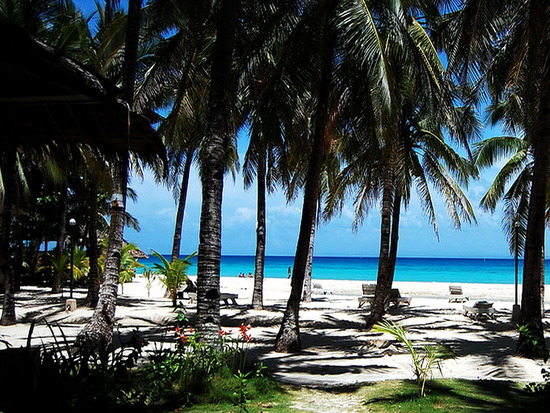 Kota Beach, Bantayan Island, Philippines
Situated just off the northern shore of the central island province of Cebu, Bantayan Island is still only a toddler in terms of commercial tourism. Tourists are usually directed to the tourism metropolis that Boracay has become, but Bantayan remains a much vaunted secret: pristine, serene and a million miles from the real world.
Kota beach is one of the most talked about on the island, with its shimmering white sands, a still largely unspoiled natural beauty, crystal clear coastline and dramatic, fiery red sunsets. In fact, it is in every respect the quintessential island paradise that so many of us dream of losing ourselves in. And what better place to lay in a hammock between two coconut trees with the sound of the waves in one's ears.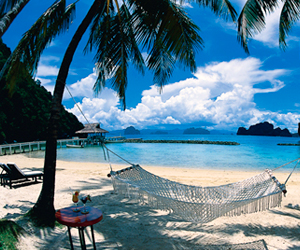 El Nido, Palawan Island, Philippines
Palawan Island lies to the west of the main Philippine archipelago, just north of Malaysia, acting as a virtual border between the Sulu Sea and the South China Sea. With those waters surrounding it, it is anything but surprising that this is an area of the country that even Philippinos talk yearningly about: a holiday on the fine powdered sands of Palawan is a treat indeed.
El Nido, sited at the northern end of the toothpick-shaped isle, is one of the most loved destinations, and not just for its beaches. Its bay area boasts 45 tiny islets, each of which has distinctive features like hidden beaches, sheer cliffs of coral and lagoons. These islets are seem to float across the horizon, not unlike moons and planets from those compelling scenic shots in a sci-fi movie. Lying in a hammock with a cocktail within arm's reach, a view so inspiring will live in the memory for a lifetime.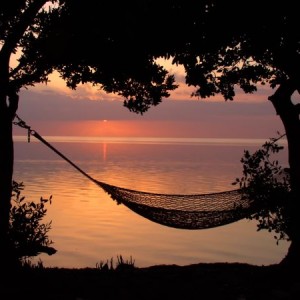 North Stradbroke Island, Australia
It's rare that you can look up and down a beach and not be able to see the end of it. Well, perhaps not rare but, a 30km stretch of white sands – like that on Main Beach on North Stradbroke Island, off the coast of Queensland in Australia – is hardly a common feature.
The great beauty of 'Straddie', however, is the dozens on inlets that boast a variety of much smaller, secluded (and even intimate) beaches, where tourists can escape the crowd, and get closers to the marine life that teem in rock pools and coves. It is also a favourite place for whale watchers, who can venture out to sea on tours to get close to the giant mammals. After such exertions, watching the sun go down from a hammock is a natural conclusion to such a magical day.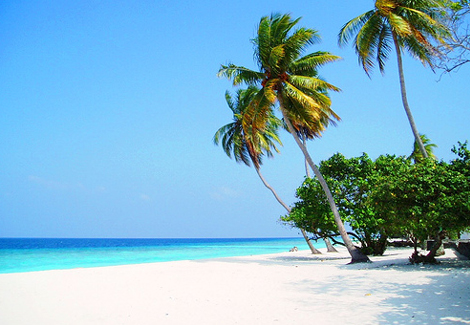 Marari Beach, Kerala, India
Admittedly, India is not the first place we think of when considering ideal beaches to swing our hammocks on – but the Asian nation is not short of some stunning coastline. Amongst the most popular beaches is Marari beach in Kerala, an area close to the tip of the nation where tropical beauty and perfect tranquility has earned it a place amongst National Geographic's own list of 10 Paradises of the World.
Here, a booming tourist industry co-exists harmoniously with a string of traditional fishing villages and the ruins of past glorious eras. Marari is one of a number of popular beaches, but boast a spectacular vista that mesmerises those who visit. Paradise indeed that leave memories that are impossible to forget.