Do you have any idea where the word quiche came from? It was actually derived from the German word Kuchen, which means cake. Originally, it is an open pie with a filling of custard plus smoked bacon or lardons. Later on cheese was added to the quiche Lorraine. Similarly, 'quiche alsacienne' is like a 'quiche Lorraine', only with added onions just like this recipe. There are even many variations of a quiche – others have mushrooms, broccoli, and/or seafood. This may be served as an entrée, lunch, breakfast or even as an evening snack.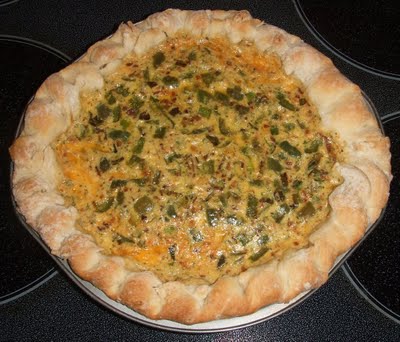 INGREDIENTS:
For the Crust:
2 ½ cups of Flour
1 teaspoon of Salt
1 teaspoon of Sugar
6 Tablespoons of Cooking Oil
¾ cup plus 1 Tablespoon 2% (reduced fat) Milk
For the Filling:
½ piece of Green Pepper (medium and chopped)
2 pieces of Green Onions (chopped)
4 slices of Bacon (cooked and chopped)Â You may use a real bacon that already comes pre-cooked and chopped
1 cup of Cheddar Cheese (shredded)
For the Egg Mixture:
6 pieces of Eggs (large)
1 cup of Milk
3 teaspoons of French Onion Dip Mix (Victorian Epicure) – no salt added
1 teaspoon of Fresh Cracked Black Pepper
pinch of Salt
½ cup of Parmesan Cheese (grated)
PROCEDURES:
You must prepare to preheat the oven to 375°F.
For the crust:
* Using a large bowl or any open-top container, combine the flour, salt, and the sugar.
* Add in the cooking oil with the use of a pastry blender. You should blend it until it reaches the consistency of a corn meal.
* With the use of a wooden spoon, mix in the milk until it forms a ball. Afterwards, when it has nearly formed a ball, you should work with your hands rolling it around the bowl in order to fully incorporate the dough.
* No, wrap it in a plastic wrap and put it inside of the fridge for a half to chill. For the meantime, you can already prepare the filling and the egg mixture.
For the filling:
* After letting the crust to chill in the fridge, you can now sauté the green pepper for around 2 minutes until tender crisp.
* Add in the green onions and then continue to cook for about 2 more minutes.
* Put in the pre-cooked bacon and continue cooking for an extra minute.
* Following that, you may remove it from the heat.
For the egg mixture:
* Combine the egss, milk, French Onion dip mix, black pepper, salt, and the Parmesan Cheese and in a medium-sized bowl. Mix well and then set aside.
You may now roll out your pie crust on a floured surface and place the crust in a 9-inch pie plate. Fill it in with the egg mixture then add the shredded cheddar cheese as well as the bacon veggie filling.
After having done those, bake it in an oven on a middle rack for approximately 35 minutes or right up until a tooth pick that is inserted in the middle of your quiche comes out dry.
Now, get ready and serve up!