A baked potato may be eaten anytime – breakfast, lunch, dinner or even snack. It is best served with fillings and condiments such as plain butter, cheese, ham or bacon. Now, why don't you try baking and make your own now. Yummy!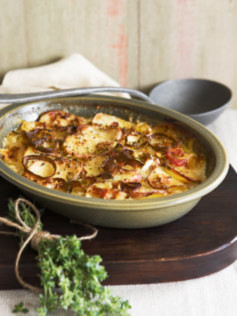 INGREDIENTS:
6 or about 1kg of Pontiac or desiree potatoes (thickly sliced)
2 stems of Leeks – white part only (thickly sliced)
6 slices of Prosciutto ("ham") (coarsely chopped)
100 grams of Gorgonzola (may use any similar blue cheese, thinly sliced)
2 cloves of Garlic (thinly sliced)
¾ cup or 185ml of Cream (thickened)
½ cup or 125ml of Chicken stock
Sprigs of Thyme
METHODS:
1. You must prepare to preheat the oven to about 180°C.
2. Now, layer the potato, leek, prosciutto, cheese as well as the garlic into a 6-cup or roughly about 1.5 litre capacity ovenproof dish.
3. Mix in together the cream and the stock in a container and pour it evenly over the potato mixture.
4. After that, just sprinkle with thyme sprigs and then season using salt and pepper.
5. Now, you can bake it in the preheated oven for about 35 to 40 minutes or right up until the potato is tender. Also, the top of what you have baked should be golden brown in colour and caramelised.
6. Finally, remove it from the oven and set it aside for around 5 minutes before serving time!