Just a very simple dessert that you can make and bake after few minutes even when you're camping outdoors. A favourite for anyone who has a sweet tooth.
Ingredients:
29 ounces (in can) of Cherry pie filling
1 Devil's food cake mix
12-16 ounces of Cream soda or lemon-lime soda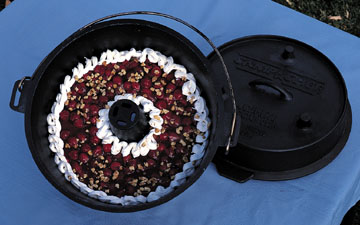 Method:
1. Empty the contents of the cake mix in a large bowl. You can then pour either a small amount of cream or lemon-lime soda into the cake mix at a time. Stir constantly after each addition until the mixture reaches the consistency of a cake batter.
2. You can now lightly spray the Dutch oven using a non-stick oil. Clear out the pie filling into the oven. Now, you must spread it out evenly with the use of a spatula.
3. Pour the batter all over the pie filling. Spread the mixture evenly.
4. You should bake it on medium/low heat for about 30 to 35 minutes. Let it cool.
5. Lastly, you can spread out the whipped topping over the surface.
6. And now for the most favourite part! That is, to serve what you have baked! Mmmm…smells good and yummy! Serves 12 to 15.