Do you know the difference between a cobbler and a pie? Well, cobblers never contain a bottom crust unlike pies but both are very yummy desserts! Now, I want to share with you this fruity recipe of blackberry with a delicious filling that you can share with your family or fellow campers…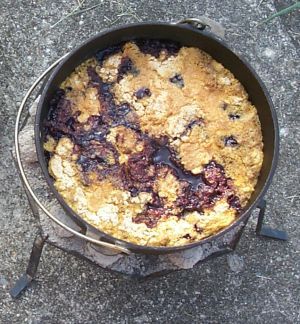 INGREDIENTS:
2 cups of Bisquick
1 1/3 cups of Milk
1 piece of Egg
2 Tablespoons of Vegetable oil
Cinnamon (to taste)
2 cans of 29-ounce Blackberry filling
Aluminum foil (for lining)

METHOD:
Initially, you should line a 12-quart Dutch oven using a heavy duty aluminum foil for easy clean-up. Then place it on bed of coals in order to preheat for about 10-15 minutes.
Next, you should mix all of the ingredients except for the blackberries. Remove the Dutch oven off of coals.
Now, add in the fruit. You must drain it if needed.
At this point, pour in the batter over the top of fruit. You may add in the cinnamon on top, if desired.
Put a lid on Dutch oven and place it back on coals. Just remember that When using charcoal, you should place about 8 pieces at the bottom and around 13 to 15 on top.
You must bake it for around 45 minutes or until the top is golden brown in colour. Now, remove from the coals and then crack a lid to allow it to cool down.
Now go be the camping hero! Serve up!