A very simple cooking technique but will surely have a huge outcome. Why do I say so? Simply because, I believe braising is one way to cook less expensive but you end up with a result that is simply tender and flavourful. And that is why I can't wait to share with you this recipe. Enjoy!
This dish can serve up to 4 people.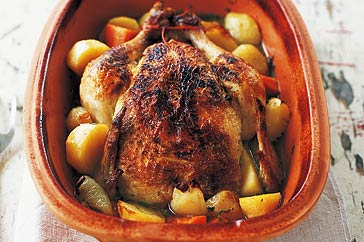 INGREDIENTS:
1 Free-range chicken (about 1.6kg)
1 piece of Lemon (cut into half)
700 grams of Small waxy potatoes (peeled)
2 pieces of Carrots (peeled)
2 pieces of Small brown onions (chopped)
2 pieces of Parsnips (peeled)
1 Tablespoon of Mild sweet paprika
Sea salt
2 Tablespoons of Olive oil
600 ml of Chicken stock
1 piece of Bay leaf
2 sprigs of Thyme
50 grams of Butter (melted)
100 ml of Thick cream
2 Tablespoons of Tarragon (roughly chopped)
METHOD:
1. Prepare to preheat the oven to 200°C. You must wash the chicken inside and out. Afterwards, pat dry the chicken and put half of a lemon inside the cavity of the chicken. Tie up the legs together using a kitchen string.
2. Next is to cut all of the vegetables in roughly equal-sized pieces and then put these vegetables on the base of a large casserole dish.
3. You may now sprinkle the chicken with paprika and season it using sea salt and pepper. Heat up the olive oil in a frying pan over medium heat then fry the chicken until it is golden in colour on all sides.
4. Following that, you should place the chicken in a casserole along with the vegetables and then pour in enough stock to come halfway up the sides of vegetables. Keep in mind that the tops of the veggies should be sticking out. Add in now the bay leaf and the thyme then cover up. Bake it for around 1 hour while basting the chicken with a stock every 15 minutes.
5. At this point, you may increase the oven to 220°C.
6. After doing that, you should remove the chicken from the casserole and set aside to rest. Put the vegetables on a baking tray then brush using the melted butter. Roast for about 10 minutes to crisp.
7. You may now pour in the sauce from the casserole dish into a saucepan and simmer over high heat until it has reduced and thickened. Add in the cream, juice of the remaining lemon half as well as the tarragon. Season to taste.
8. For the final touch, you can even carve the chicken and serve it up with the vegetables and sauce.
Sounds yummy huh?! Can't wait to taste!