This recipe can be served as a side dish to your meal at any time. You can try serving it with a lamb, grilled courgettes with lemon, and some roast potatoes. Add it as well with some feta cheese or even put some mushrooms as filling. Enjoy!
INGREDIENTS:
4 pieces of sweet onions (preferably extra large)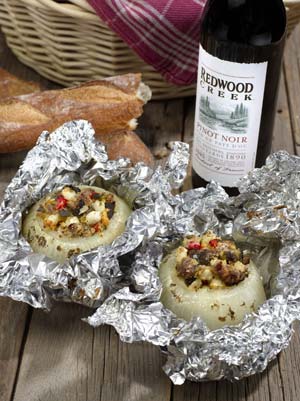 1 pound of pork sirloin steak (cubed and thinly cut)
2 teaspoons of coarse kosher salt
Black pepper to taste
½ teaspoon of ground cumin
1 cup of boxed cornbread stuffing mix
2 Tablespoons of mild green chili powder
3 large poblano chiles (roasted, peeled, and seeded)
Substitute for Poblano Chiles/peppers: Any fresh peppers such as Jalapeño, Serrano, Anaheim, etc.
1 can of 15.5 ounce of hominy, also known as dried maize mote (drained)
¼ cup of sweet red pepper (chopped)
½ cup of aged cotija cheese (grated)
To garnish, you may use any of the following:
Cilantro (optional)
Avocado (optional)
Other Materials:
Measuring cup
Ice cream scoop or a spoon
Aluminum foil
Sharp knife
Large mixing bowl or container
Can opener
Small fire shovel
Meat thermometer (optional)
PREPARATIONS:
1. First of, you should slice off the top portion of the onions – ¼ of the way down and then slice also the roots from the bottom so that they will sit without rolling over. Next, peel off the skins from your sweet onions. Try to cut an 'X' into the centre with the use of a spoon or an ice cream scoop in order to remove the centre portion. That leaves the walls just about half an inch thick. You then dice ¼ cup of onion from the centres and keep the remaining onions for using them in your other recipe.
2. Combine all the diced onions along with the pork, salt and pepper, cumin, stuffing mix, chili powder, poblano chiles/peppers, hominy, red pepper, and the cheese. Fill up each onion bowl with the mixture. Now, you may wrap the onions in large squares of a heavy duty foil. This brings the seams altogether on top by means of flattening the foil just a bit. You should keep the wrapped onions at upright position and nestle up each on the hot coals in a camp oven. Using a small shovel, you must top each onion with around 1 to 2 very hot coals.
3. As we near up to our final procedure, you must cook this at around 30 minutes or even until a meat thermometer that is inserted into the centre shows a 175-180°F. Remove it away from the coals. Then open the foil very carefully (as obviously, it is hot!) and then serve up amongst you. You can also garnish your dish using a cilantro and/or an avocado, if desired. This dish serves up to four campers. Bon Appetit!