Easy recipe to follow with only a few simple ingredients. Perfect for campers with a sweet tooth and who also like nuts. Obviously you'll need a camp oven and a good hot fire to get it started. Enjoy!
I like this recipe because of the simple ingredients it uses, and if you're like me and have half empty packets of nuts in your cupboard then you can now put these to good use. You can use the camp oven lid as the cooling tin for the crunch.
This recipe is an adaptation from the Fruit and Nut crunch by Melanie at sisterscafe.blogspot.com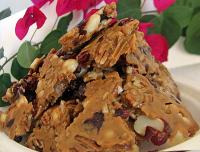 Ingredients:
1 cup of butter (no substitution)
1 cup of sugar
1 tablespoon water
1 teaspoon vanilla essence
3 cups of nuts (I used macadamias and pecans)
½ cup craisins or raisins or dates (optional)
Method:
Cut a double circle of baking paper to go on top of the camp oven lid. You could also just grease the camp oven lid or grease tinfoil dishes. Put 12 heat beads on the fire to heat up if you'rer using these.
Dry fry or toast the nuts to achieve just a slightly toasted taste. Chop these just a little bit.
Melt the lovely butter over a low heat then add sugar and water and stir constantly until sugar is completely dissolved and no longer grainy. This takes about 10 minutes. If the sugar granules stick to the sides, wipe them down with a wet pastry brush.
When the sugar is completely dissolved turn the heat up to medium (You can put the other 6 heat beads under the camp oven at this time. Stir constantly until the toffee becomes a medium caramel colour. This usually takes about 20 minutes.
Take your mixture away from the heat quickly and stir in the nuts, craisins, and vanilla and then spread over the baking paper on the camp oven lid or press into foil trays. Cool (you can refrigerate it) and then break into pieces.
Eat it and say "Yum!"