Now who says you can only eat fruitcakes during Christmas, huh?! Of course, you do not have to wait Christmas because you can bake it anytime of the year. That is why we are sharing this very simple recipe so you can easily make and enjoy eating. Fruitcakes are usually baked using chopped candied fruits and/or dried fruits, nuts, and spices. Others even soak it in spirits or mix rum in it to add more flavour. You can even decorate it with some pecan nuts and glazed cherries.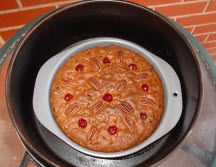 INGREDIENTS:
1 cup of Self-raising flour
395-grams (tin) of Condensed milk
375-grams Packet of Dried mixed fruit
Pinch of salt
DIRECTIONS:
You must prepare to preheat the oven.
Combine the ingredients together then mix them very well.
Pour them into a well greased cake tin and bake for around 45 minutes.
Let it cool in a pan and voilà , you now have a sumptuous fruit cake!
Pretty easy, huh? Don't worry because you'll have a really nice cake afterwards. You can also decorate it using some pecan nuts and glazed cherries.
Sounds yummy! I can't wait to eat this!