This mouth-watering recipe is a favourite even when you are out camping. Just be sure to bring enough lamb for your cooking. You see, it's hard to ask for more when you are out in the middle of nowhere, right? This dish is best served with mashed potato, steamed rice, and veggies as side dish.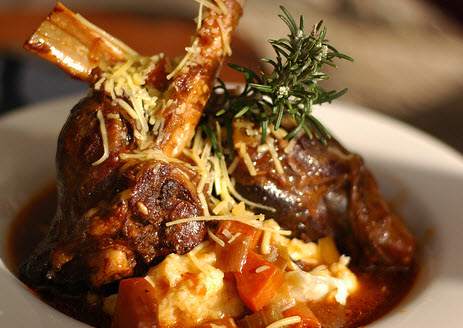 Ingredients:
4 pieces of Lamb shanks (about ¾ to 1 pound each)
Salt and pepper
Flour
1 piece of Large onion (thinly sliced)
1 piece of Medium green pepper (seeded and cut into strips)
1 cup of Tomato sauce
1 clove of Garlic (minced)
1/3 cup of Dry white wine or chicken broth
½ teaspoon of Salt
½ teaspoon of Oregano leaves (chopped)
¼ teaspoon of Sugar
¼ teaspoon of Ground cinnamon
¼ teaspoon of Dry rosemary
Feta cheese (Crumbled) – may be used as an option
Directions:
1. You must lightly sprinkle the lamb shanks with salt and pepper. Coat them lightly with flour and then arrange your lamb shanks in the camp oven.
2. Next, you may scatter the onion and the green pepper all over the top.
3. Now, using a medium-size bowl or any container, just combine the tomato sauce, garlic, wine, salt, oregano, sugar, cinnamon, and rosemary. After mixing them all in, pour over the meat.
4. Cook the lamb shanks over a low fire for about 8 hours.
5. After 8 hours, you can now remove the lamb onto a platter and then keep the meat warm.
6. You must get rid off any excess fat from juices.
7. Using some plain flour or corn flour mixed in water, you may thicken the sauce.
8. You may now put the lamb shanks onto a plate.
9. Then pour over some sauce on the lamb.
10. And finally, you may just sprinkle some feta. Just the way we like it! But, of course, it is just an option.
NOTE: BEST served with a mashed potato or over steamed rice. Yummy!