This Lasagna Roll-Up is also a favourite. A recipe that can be prepared and cooked in less than an hour – as an appetizer or a snack. This recipe is best served with a lot of cheese in it and an extra parmesan cheese when serving time comes. Let's eat up!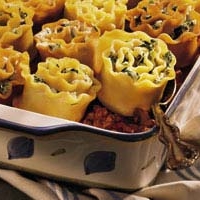 INGREDIENTS:
6 ounces of Plain lasagna noodles (uncooked)
6 ounces of Whole wheat lasagna noodles (uncooked)
1 pound of Lean ground beef
1 cup of Large onion (chopped)
1 jar or 14 ounces of Tomato pasta sauce (your choice of variety)
1 can or 8 ounces of Mushroom pieces and stems (undrained)
1 container or 15 ounces of Ricotta cheese
1 package or 10 ounces of Frozen spinach (chopped, thawed, and squeezed to drain)
1 cup or 4 ounces of Mozzarella cheese (shredded)
¼ cup of Parmesan cheese (grated)
1 teaspoon of Salt
¼ teaspoon of Pepper
2 cloves of Garlic (finely chopped)
Additional grated parmesan cheese (if desired)
PROCEDURE:
First of, heat up the oven to 350ºF. As directed on the package, you must cook and drain the noodles.
Secondly, cook up the beef plus the onion in a 10-inch skillet/pan over a medium-high heat for around 6 minutes. Stir occasionally until the beef is brown in colour then drain.
Thirdly, mix in the pasta sauce and the mushrooms. Heat until it boils while stirring constantly. Now, you can pour into an ungreased rectangular baking dish (e.g. 11 x 7 x 1 1/2 inches).
Next, mix the ricotta cheese, spinach, mozzarella cheese, 1/4 cup of Parmesan cheese, salt, pepper, and the garlic. Then spread 3 Tablespoons of the cheese mixture over each and every noodle.
Roll up just about every noodle and cut the roll crosswise into half. Put the cut sides down into the beef mixture.
Finally, cover up and bake for around 30 minutes or until it is hot.
Ready to serve and best if there is an additional Parmesan cheese!