You will definitely need a camp oven for this particular recipe because nothing else works but the a cast iron oven. Anyone who loves peach will surely like this dessert because it is full of flavour. Yummy!
INGREDIENTS:
6 Jumbo cans Sliced peaches (in heavy syrup)
NOte: Drain the 3 jumbo cans of peaches
2 boxes White or vanilla cake mix
1 stick Butter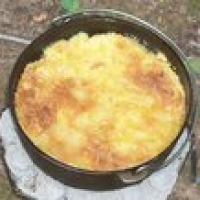 METHOD:
It is essential that you use a cast iron Dutch oven for this particular recipe because nothing else works best.
For the First Layer, you must drain the 3 cans of peaches and put them in the cast iron Dutch oven.
Add in the remaining 3 more cans of peaches into the Dutch oven. You must not drain the liquid.
For the Second Layer, you should pour the boxes of either white or vanilla mix on top of the peaches. You must not stir.
For the Third Layer, you can slice up the stick of butter into small pieces then drop them all over the top of the cake mix.
Now, place the lid on the Dutch oven and put it in the campfire, just near the hot coals. NOTE: It should not be ON the hot coals.
It is very important that you put the hot coals on top of the Dutch oven lid.
To guarantee an even baking, you should give the Dutch oven a 180 degree turn for about 20 minutes.After 20 more minutes, you should now check under the lid.
When the peaches are soft and caramelised, it means that your dessert is now finished and cooked! The juice will eventually thicken and you should have a hot, bubbly, and golden brown topping!
Wow, I'm so excited to eat! But keep in mind that you should not let the Dutch oven turn all glowy red because your dessert will burn! Such a yummy treat!