Who can resist Rice Bubbles as your breakfast? Now you can creatively cook a dessert or a snack bite for those lovers of sweets. You can alternatively mix it with raisins, nuts, mallows, and even put some colouring if desired. Enjoy!
Ingredients:
4 Tablespoons of Butter
4 cups or 10 ounces of Marshmallows
5 cups of Rice Krispie cereal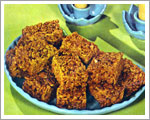 Directions:
Prepare and melt the butter in a saucepan over a low heat.
Next, add in the marshmallows and stir them until melted. Cook for 3 minutes while mixing consistently. (Note: Microwave or camp oven is set to HIGH)
Remove it from the heat then put the Rice Krispies. Â  Stir continuously until all are coated.
With the use of a buttered spatula, press it evenly into a greased 13x9x2″ pan.
Let it cool then slice them into squares for around 2 inches.
AS ALTERNATIVES, you may add any of the following:
1 cup of raisins
1 cup peanuts
1/4 cup peanut butter to marshmallows
2 squares chocolate (melted) with marshmallows
for Christmas:
Add in green food colouring (optional or if desired)
Shape into "trees" or "stars" or you can even press into buttered ring or small Bundt mold.
Then you can also decorate with red cinnamon candies (for the tree) or spearmint leaves and jelly berries for ring mold (resemblance of a wreath)