Now this dish is good for more than 6 people. Actually, this can serve up to 12 people. So while the others are just enjoying the nature around and having some activities, all the ladies can help each other out to prepare this. I'm sure Mum might even take the full responsibility and let the kids do their own things or whatever activities. Whoever will help out, the final outcome of the dish is worth it as the whole family eat a very sumptuous meal!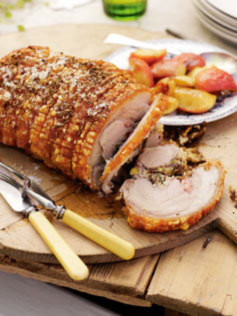 This meal can serve up to 12 people
Preparation time is around 20 minutes
Cooking time is around 1 ½ hours (plus resting time of about 15 minutes more)
INGREDIENTS:
2 kg of Boneless pork loin
1 Tablespoon of Olive oil
2 teaspoons of Fennel seeds
2 teaspoons of Sea salt flakes
12 pieces of Baby apples (Note: You may also use 6 apples, halved)
¼ cup or 60ml of Maple syrup
For Couscous and prune stuffing
1 Tablespoon of Olive oil
1 piece of Brown onion (finely chopped)
1 cup or 250ml of Chicken stock
1 cup or 190 grams of Couscous
1 cup or 180 grams of Pitted prunes (coarsely chopped)
½ cup or 75 grams of Pistachios (coarsely chopped)
1 Tablespoon of Sage (chopped)
PROCEDURE:
You should first preheat the oven or covered barbecue to about 220°C. In making the couscous and prune stuffing, you must heat up the oil in a medium frying pan over medium heat.
Add in the onion and cook while stirring for about 5 minutes or until the onion softens.
You may now add in the chicken stock and bring it to a boil. Remove from the heat and then add in the couscous and stir up to combine.
Now, cover and set it aside for about 5 minutes. You may use a fork in order to fluff the grains.
Add in the prunes, pistachios, as well as the sage and then toss up to mix them all in together. Season with the use of salt and pepper to taste.
Lay down the pork flat whilst the skin-side up on a clean working surface. (Note: It is best to use a sharp knife to score the skin widthways at about 1cm intervals whilst you are cutting deeply into the fat layer.)
Now, turn the pork and make a 5cm-deep cut under the eye of the meat in order to create a cavity for the stuffing. Use a spoon to do the stuffing into the cavity. Afterwards, you may roll the pork to enclose the stuffing and then use a kitchen string for you to tie it up at 2cm intervals and be able to secure its position.
At this point, you may put the pork in a large roasting pan. Drizzle it up with oil and then sprinkle with fennel seeds and salt.
You may use your hands to rub in the spices and oil into the skin. Then roast it in the oven or barbecue for around 30 minutes. On the other hand, you may reduce the temperature to about 190°C and then roast for an additional 45 minutes.
So now, you can already put the apples around the pork and drizzle with maple syrup.
You can still roast it for around 15 minutes more or right up until the pork is cooked through and the apples are already tender.
At this time, you may actually remove it from the oven. Cover up using an aluminum foil and then set aside for around 15 minutes in order to rest.
Finally, put it on a serving platter and then cut into slices to serve. Enjoy eating!