In case you are not aware, a traditional or classic ratatouille dish really consists of bell peppers, zucchini, eggplants, tomatoes, onions, garlic, and some fresh herbs. This recipe is a classic example and we are using a fresh continental parsley to add flavour. This may be served even hot or cold. Perfect for vegetarians!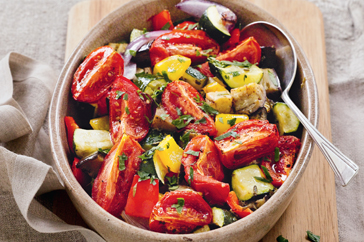 This meal can serve up to 6 people.
INGREDIENTS:
¼ cup or 60ml of Extra virgin olive oil
1 piece of Eggplant (about 400 grams; cut into 4cm pieces)
2 Zucchinis (trimmed, cut into halves lengthways, and coarsely chopped)
2 pieces of Red onions (halved and cut into wedges)
1 piece of Red capsicum (halved, seeded, and cut into 4cm pieces)
1 piece of Yellow capsicum (halved, seeded, and cut into 4cm pieces)
3 cloves of Garlic (finely chopped)
1 Tablespoon of Fresh rosemary (chopped)
6 pieces or about 650 grams of Roma tomatoes (quartered)
¼ cup of Fresh continental parsley (chopped)
DIRECTIONS:
1. Prepare to preheat the oven to 200ºC.
2. Heat up the oil using a large baking dish in the oven for around 5 minutes.
3. Next, stir in the eggplant, zucchini, onion, red and yellow capsicums, garlic, and rosemary to coat. Top with tomatoes.
4. Finally, bake for about 45 minutes or until the vegetables are already tender. Stir in the parsley and you're done!
Ready to munch on this dish!