This is a very healthy recipe and perhaps a favourite for vegetarians and even not. Put a lot of cheese and I'm pretty sure this will surely be a yummy dish.
INGREDIENTS: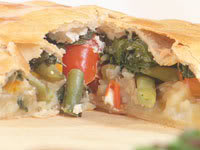 pastry
1 cup of plain flour
1 cup of wholemeal plain flour
2 Tablespoons of olive oil
1 teaspoon of sea salt
150 ml of water2 pieces of large potatoes (peeled and cut into chunks)
2 Tablespoons of olive oil
2 pieces of medium onions (sliced)
3 cloves of garlic (finely chopped)
200 grams of pumpkin (peeled and chopped into 2 cm pieces)
125 grams of cherry tomatoes
100 grams of beans (trimmed and cut into halves)
100 grams of broad beans (must be blanched and skinned)
6 pieces of silverbeet leaves (coarsely chopped and also wilted)
150 grams goat's cheese (crumbled) (NOTE: You may use other cheese if preferred)
1 piece of egg (lightly beaten)
PROCEDURES:
You must pre-heat the oven for around 200°C/180°C (NOTE: fan-forced). Alternatively, you may also get either the fire or the beads ready.
In order to make the pastry, you should put the flours, oil, salt, and water in a large mixing bowl. Mix the combined ingredients with a wooden spoon until it forms a stiff dough. Knead for around 10 minutes until the dough is perfectly smooth and elastic. Wrap it in a cling film then place it in the refrigerator for about 2 hours.
In the meantime, put the potatoes in a saucepan containing the salted boiling water. Cook the potatoes for around 10 minutes until just tender. Drain and coarsely smash them using a fork then allow to cool down.
Heat up an oil in a small frying pan over a medium heat.
Add in the onions as well as the garlic. Cook for about 5 minutes until it is brown in colour.
Remove away from heat then allow to cool.
Take the pastry from the refrigerator and roll up half of the dough into a 35cm disc. Then, place it on a greased and lined baking sheet.
Now, put the potatoes in an even layer over the pastry allowing a 2cm space all around the edge. You can top with onions, pumpkin, cherry tomatoes, and even beans. Moreover, you can also put the silverbeet as well as the goat's cheese over the top. Best if you will season it with salt and pepper.
Next, roll out the remaining pastry to cover. Afterwards, brush the edges with egg and then seal up by folding. Cut in some holes on the top and then simply, brush with egg.
For the final step, bake it in the oven for around 40 minutes until golden in colour.