When I hear of glazed ham, I can't help but think of Christmas. I don't know but I usually associate it with the Holiday season though I eat glazed hams as often as I can. So here goes a simple recipe that you can also bring along hen you are out camping. Yummy!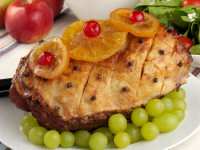 INGREDIENTS:
5-7 pounds of Pre-cooked ham
1 (15 ounces) can of Pineapple rings
1-2 ounces bottle of Maraschino cherries (may be optional)
1 cup of Water
To Glaze:
1 (8 ounces) jar of Orange marmalade
½ teaspoon of Tabasco (may use other hot pepper sauce)
6 ounces of Amaretto (may also use almond/cherry liqueur)
DIRECTIONS:
Mix in the glaze ingredients together and let the mixture sit while you are getting the charcoal ready.
Put the ham on a rack in a deep 14-inch Dutch oven together with juices from the cherries, pineapple, and the water.
You may now brush the ham with the glaze that you have just made and put in any other seasoning that you wish to add.
Place the pineapple rings on the ham while putting a Maraschino cherry in the center of each ring. (Note: Putting a cherry is just an option).
You can use toothpicks in order to secure the pineapple rings as well as the cherries to the ham, if needed.
Set it in a firepan with around 8 to 10 briquets underneath and then 12 to 14 of the briquets all around the outside of the lid.
Cook it for about an hour then brush the ham with the remaining glaze for around 2 to 3 times while cooking.
Now it's cooked and ready to serve!