Zucchini muffins taste insanely delicious as much as banana breads do. Similarly, these muffins are easy to make, too. You can even put some dried cranberries, nuts, and raisins in it. Sounds good? Yummy!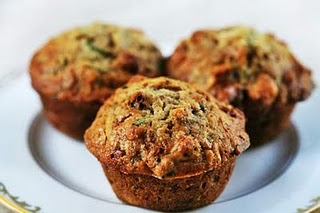 This recipe makes around 10 to 12 muffins.
Ingredients:
¾ cup of Chopped pecans (set aside a few to sprinkle on top)
¼ cup of Margarine
½ cup of Sugar
¼ cup of Brown sugar (lightly packed)
1/3 cup of Applesauce
1 teaspoon of Vanilla essence
1 ½ cups or about 1 large of Zucchini (grated) Note: While the skins are on, squeeze some of the moisture out and then fluff it up again before you use it
1 ½ cups of Whole wheat pastry flour (may also use all-purpose flour)
¾ teaspoon of Baking soda
¼ teaspoon of Baking powder
½ teaspoon of Salt
½ teaspoon of Cinnamon
1 teaspoon of Curry powder (just an option)
Directions:
First, you should preheat your oven to 350°F. Line or grease the muffin tin.
Using a mixer, you should now combine the butter and sugars and then beat again until the mixture comes together and is no longer crumbly.
You can now add the applesauce then mix in the vanilla and then the zucchini. Remember to put in low speed if you are using a mixer.
Use a separate bowl or container to blend these ingredients together: the whole wheat pastry flour, baking soda, baking powder, salt, cinnamon, and the curry powder. Add in these dry ingredients to the wet ingredients into two batches while stirring in between each addition.
Now, fold in the walnuts or pecans using your hands. It's a good idea to save a bit of these nuts so that you can sprinkle some on the tops of the zucchini muffins before baking for a little bit of texture.
After having done those, fill the muffins about 2/3 full. Bake them for around 30 to 35 minutes using the middle oven rack.
Remove the muffins from the oven and cool them for around 10 minutes. Turn them out onto the wire racks in order to finish cooling.
Sounds like tasty muffins, right? They certainly are! Hurry, make some and grab a bite! Yummy!