Now, isn't it amazing how you can have a dessert you can munch on in just a few minutes? This yummy and gooey banana s'mores is just perfect for anyone with a sweet tooth and a fan of any fruits!

Ingredients:
1 piece of medium-sized banana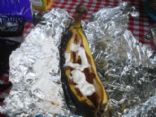 ½ crumbled graham cracker
½ Hershey's candy bar broken into pieces
3 pieces of marshmallows (each cut in half)
Directions:
Split the banana into lengthwise using a knife. Remember not to slice through the other side of the banana skin.
Next, you can sprinkle the crumbled graham cracker and place 1/2 of candy bar on top.
Lastly, put the marshmallows that were cut into halves on top. Roll the banana up in a foil.
Set it over the campfire or you can even grill it for approximately 5 minutes. (Note: You may also use a 2-burner or 3-burner gas camp stove)
Now, for the best part… Unroll and eat it with a spoon! Yummy!