Just like a quesadilla, a burrito is one of the favourites amongst campers. Usually, burritos are eaten during breakfast but of course, this easy-to-make recipe is an all-time favourite and as long as you have an access to a pan or cookware, anyone can just make and serve it after few minutes. Some versions of burritos even have rice in it.
Breakfast is considered the most important meal of the day. Certainly because this will give one's body the essential energy in order to get through the morning or even throughout the day. I know of a recipe that is so easy-to-make and if you have an access to a frying pan or any cookware, this sumptuous breakfast burritos are definitely so easy to make and can even serve up several people in just a matter of few minutes.
Ingredients:
8 pieces of Eggs (beaten)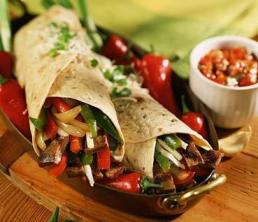 1-8 ounces bag of Cheddar cheese (shredded)
½ medium of Onion (minced)
½ pound of Bulk sausage
8 pieces of flour tortillas
Preparation:
Cook the sausage until it is no longer pink in colour. The sausage must be stirred frequently in order to avoid sticking. While the sausage is cooking, you can wrap the tortillas in an aluminum foil and set on rack above the fire. As a reminder, you have to watch carefully as it does not take long to heat the tortillas. (Note: You may also use a 2-burneror 3-burner gas camp stove.)
Drain all thoroughly but a little bit of oil from the pan/griddle. Add the eggs as well as the onion. Continue on cooking until the eggs are no longer gooey. Remove from the heat.
Make the tortilla by putting a spoonful of the egg and sausage mixture in the middle of a tortilla. You can top it with cheese.
Finally, roll up the tortilla and enjoy eating! (Tip: You may keep extra packets of taco sauce from any Mexican fast food restaurants. The sauce can definitely add up a lot of flavour to the burritos.)