An easy-to-prepare and easy-to-cook recipe, this Chicken Bread Wrap may be eaten anytime. Best served with any dip that you desire according to your taste and choice. This can be eaten along with some rice or bread.
Ingredients: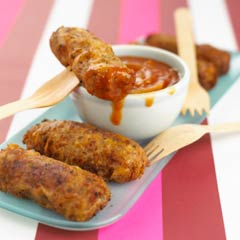 250 grams of chicken
1 cup of cabbage (chopped)
1 small bunch of spring onion
1 loaf of bread
1 Tablespoon of ginger and garlic paste
1 Tablespoon of green chili paste
2 Tablespoons of green chili sauce
2 Tablespoons of oil
Salt (to taste)Method:
1. First thing to do is to cut the four sides of the bread and place them aside.
2. To do the fillings: Heat up the oil in a container. Add in the ginger-garlic paste, green chili sauce, and fresh green chili paste. Saute all the ingredients for a minute.
3. Mix in the chicken pieces plus the finely chopped cabbage and the chopped spring onion.
4. Put salt to taste and cook until it is done.
5. Now, cool the filling.
6. Then you may just dip the four sides of a bread slice in the water and squeeze it.
7. Add in the chicken filling and cover it properly. Afterwards, come up with an egg shape.
8. At this point, you can just repeat the process and keep these roll for about 2 hours in a freezer. Then, you can now deep fry using a single burner or 2-burner gas stove and serve the rolls hot.
I can't wait to taste and eat up!