This dish is actually a traditional sweet and sour beef and onion stew mixed with Belgian beer, which is also best seasoned with thyme and bay leaf. Just keep in mind that the variety of beer is essential to sustain the flavour. Stir in some sugar and a small amount of cider or wine vinegar to enhance the sweet and sour taste. Mushrooms or spiced bread may be added as well to make it yummier!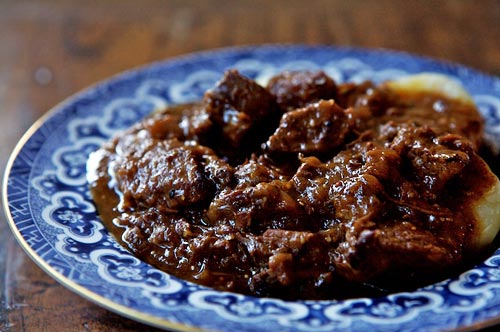 INGREDIENTS:
3 ½ pounds of Chuck roast (cut into 1-inch pieces)
Salt
Freshly ground black pepper
4 Tablespoons of Butter
3 pieces (or about 8 cups) of Medium yellow onions (sliced about ¼-inch thick)
3 Tablespoons of All-purpose flour
1 ½ cups of Chicken or beef broth
1 ½ cups (12-oz. bottle) of Belgian beer
4 sprigs of Fresh thyme
2 pieces of Bay leaves
1 Tablespoon of Whole grain mustard
1 Tablespoon of Brown sugar
METHOD:
You should pat the beef dry using paper towels and then season the meat well with the use of salt and pepper. On the stove top, you can heat up 2 tablespoons of butter in a large heavy-bottomed dutch oven over medium-high heat until it is hot right up until it is almost smoking.
By working in batches, you can now brown the meat for about three minutes on each side without stirring. (Note: Remember not to stir to give the meat an opportunity to be brown well). Next is to transfer the browned beef to a separate bowl/container.
Add in the 2 tablespoons of butter to the dutch oven then reduce the heat to medium.
Add in the onions and ½ teaspoon of salt. Cook until the onions are browned for around 15 minutes. Put in the flour and stir until the onions are equally coated and until the flour is lightly browned, which may take around 2 minutes.
Stir in the broth (chicken or beef) while scraping the pan bottom to loosen the browned bits. Mix in the beer, thyme, bay leaves, browned beef with any of the acquired juices, and salt and pepper to taste.
You may now turn up the heat to medium-high and bring it to a full simmer. Next, reduce heat to low while partially covered.
Let it cook for about 2 to 3 hours until the beef is fork tender. (Note: As an alternative, you can cook it in the oven at 300°F.) Whilst you are stirring from time to time, you can scrape up anything that is sticking to the bottom of the pan.
You may now add in the mustard and brown sugar about half an hour before it finishes cooking. You can even adjust the seasonings to taste.
Get rid of the thyme and bay leaf. You may possibly adjust the seasonings with salt and pepper to taste and then serve.
This meal is best served as it is, with potatoes, over noodles, or over French fries.