This recipe is something that I frequently prepare even at home because my kids always request it. This is actually one of the favourites amongst campers or not. Due to the quesadilla's cheesiness and yumminess, nobody can resist munching on one. Yummy!
This is certainly one of our favourites when we head out camping. The truth is, it is so good and tasty that we frequently prepare it at home!
Ingredients:
2 pieces Grilled chicken breasts (either cubed or shredded)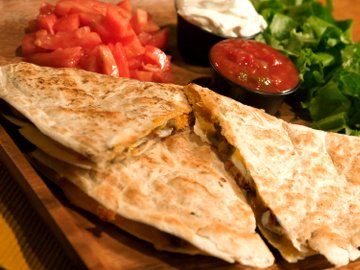 1-2 cups Cheese
4 pieces Tortillas
½ stick Butter
2 ounces Hot sauce and/or ½ cup Salsa
Directions:
First, butter one side of the tortilla and put it in frying pan over the stove. You may either use a 2-burner or 3-burner gas camp stove.
Allowing at least ¼ inch of space all around the side of the tortilla, you can sprinkle ¼ cup to ½ cup of cheese (if shredded) or you can also put on thin slices of cheese (any of your desired one) all over the tortilla.
Then, you can add ½ of a chicken breast into the tortilla. As soon as the cheese starts to melt, you can now fold the tortilla into half and continue on cooking the other side for one more minute.
You may have to increase the amount of butter into the pan. Now, flip over the quesadilla and then cook on the opposite side for about a minute.
Remember that both sides ought to be golden brown as well as crispy.
Remove from the pan, open it up a little bit, and add in the hot sauce. You can also add more salsa (as much or as little as you want, depending on your taste).
Enjoy whilst cooking the other three remaining quesadillas!
Serve and savor the tastiness of your cheesy quesadillas!
Few tips for this chicken meal:
• You can try out the pepper-jack cheese for just a little kick.
• You may use single packets of scorching hot sauce that you can get from any restaurants (e.g. Taco Bell). These are very handy, tasty, and flavourful; and mind you, they also come in different levels of spiciness.
• Also, you can even pre-cook the chicken and then freeze it. Put it in the cooler then just simply warm the chicken up and finally, throw it into the tortilla.
• Alternatively, you can take a small can or a pouch of white chicken (chunked).
• Add in some vegetables if you bring them. Green peppers or any green veggies can give a nice touch.