Who loves corn? I surely do! I looovvveee corn whether it is a cob, soup, side dish, chowder, or anything that has it. That is why I would like to share with you guys and gals this Corn Chowder Recipe because it surely is yummy and delicious. Best served when hot!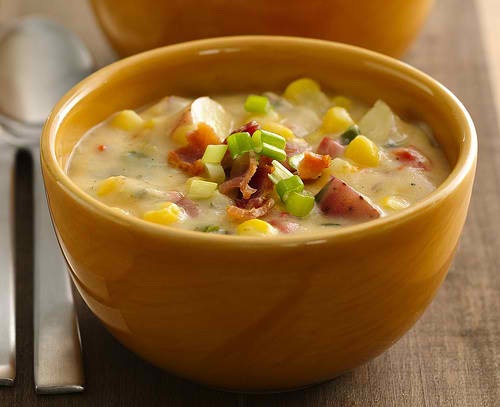 INGREDIENTS:
2 Tablespoons of Butter
½ cup of Green onion (finely chopped)
¾ cup of Red bell pepper (diced)
¾ cup of Celery (chopped)
1 pound or of about 3 medium-sized Potatoes (peeled and diced into ½-inch-thick)
4 cups of Fresh corn kernels (from around 8 ears)
1 piece of Bay leaf
4 cups of Low-sodium chicken broth
2 cups of Whole milk
Salt and pepper (to taste)
Sour cream (for garnish, optional)
1 can of Whole kernel corn
1 piece of Green bell pepper (small)
½ cup of Cilantro (chopped)
Dash of cumin
Red chilli flakes (dried) or 1 Jalapeno chile (finely chopped and seeded)
INSTRUCTIONS:
1. Using a large saucepan, you should melt the butter over medium-low heat using your 2-burner or 3-burner gas camping stove. Add in the green onions, bell pepper, and celery. Cook while you are stirring it occasionally until the vegetables start to soften for around 10 minutes. Put in the potatoes, the 2 cups of corn, the bay leaf as well as the broth then continue to stir.
2. You should then bring the mixture to a boil and then lower the heat. Simmer it for around 15 minutes while stirring occasionally.
3. Now, you can puree the remaining 2 cups of corn and the milk in a blender or a food processor and then simply stir it up into the soup. Simmer the soup until you see it thickens slightly for roughly about 5 to 10 minutes. Simply remove the bay leaf and add the salt and pepper to taste. You should now top each serving with a dollop of sour cream, if desired.
This will surely be a favourite and can serve 4 to 6.
Tips:
Just pick the ears of corn with bright green husks and that are tightly closed. Keep in mind that the ends of the corn silk should be golden brown in colour and not pale If pale, it is clearly an indication that the corn was picked too early.
In order to remove the corn silk easily from the kernels, hold the ear in one hand and rub it downward using a wet paper towel.
For you to remove the corn kernels for a salad or salsa, you should stand an uncooked ear in a shallow bowl and just use a sharp, thin-bladed knife.
For the chowder, you can add another step. Change the side of the knife and run the dull side down the ear so you can press out the rest of the corn as well as its milk.