Isn't it mouth-watering to just have an appetizer before eating up the main dishes? How yummy is that? Even with just this Dandelion Salad, you might even feel that your stomach is already full… but not me! Na-ah! I can always eat up as much as having more than one serving of any salad. Not to mention plus the main dish! Enjoy!
Ingredients: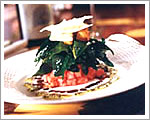 ½ cup Cream
2 pieces Egg
1 Tablespoon Sugar
1 teaspoon Salt
4 Tablespoon Vinegar
¼ cup Butter
Paprika
Pepper
4 slices Bacon (thick)
1 Dandelion
Directions:
Wash and prepare the dandelion carefully as you would a lettuce.
You can roll it in cloth and pat until dry.
Next, put it into a salad bowl and put in a warm place.
Now, cut the bacon into small pieces. Fry each quickly and drop them over the dandelions. You may use a 2-burner or 3-burner gas camp stove especially when you are cooking more than one dish.
Put the butter and half a cup of cream into a skillet and melt together over a slow-heating fire.
Beat the eggs. Add the mixture of salt, pepper, sugar, and vinegar.
Now mix them in with a bit of warm cream mixture.
Pour into the skillet and under increased heat, stir up until the dressing becomes thick like that of a custard.
Take off and pour piping hot over the dandelion.
Blend it thoroughly.
Now it's ready to serve!
But do keep this mind: Never use a dandelion once it has begun to flower because it is likely to taste bitter.