Cooking this recipe is simply fast and undeniably easy. In just merely 30 minutes, you will surely have this dish ready to serve and eat. Bon Appétit!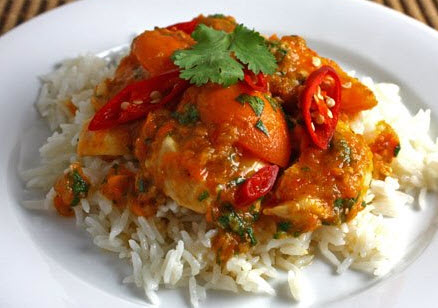 INGREDIENTS:
4 pieces of Chicken fillets (sliced into strips)
2 pieces of Large onions (sliced)
1 Tablespoon of Curry powder
1 piece of Red capsicum (sliced or diced)
1 (450 grams) tin of Apricot nectar
METHOD:
First, you must heat up a little bit of oil in a pan and then fry the chicken fillets as well as the onions until brown in colour. Use a single burner or 2-burner gas camp stove.
Next, add in the curry powder and the red capsicum. Now, you should cook it for about 5 minutes.
Then, pour in the apricot nectar and let it simmer for around 25 minutes.
Finally, it's ready! You can now serve it with basmati rice. Yummy!