So, you've seen the photos showing smiling fun-lovers swaying gleefully in a hammock and reckon you and your family would like a taste of that life. It's a no-brainer that a hammock is the key, but there is a catch: how do you go about picking the best hammock? Should it be rope, or string? Will it meet your needs?
Well, thankfully we can fill you in on the chief things to consider – 5 of them in fact! Once you have, then the final decision becomes very easy, and you can look forward to casually swinging the days away with your loved ones.
1 – Know Why You Want One
Picking the best hammock starts with knowing why you want a hammock in the first place. For example, do you simply want a hammock for your garden, do you want one to go camping with, or do you just want one to bring to the beach with you at weekends.
For the beach, a string or rope hammock is generally best. They let the fresh sea air circulate, are easier to pack away, and beach sand doesn't tend to be a problem either.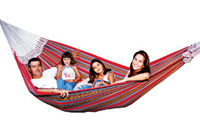 The best for a garden, meanwhile, is a cloth hammock since it's unlikely you'll want to put up and take down the hammock every day. Something sturdier and more luxurious is ideal.
But, if you want a hammock to go camping with, then a weatherproof version is needed. These are highly durable and usually come with a canvas cover to protect you from the elements.
2 – Know the Available Space
This is useful when you're going to hang your hammock at home, though hard to gauge when going elsewhere. Simply measure the distance between the pillars on the veranda or, if you want to lounge in the lush vegetation of the garden, then make sure you've identified a suitable spot and there's not too much stretch between tree trunks.
Remember, the hammock's sag is important. If the distance between posts is too far, then the hammock will be stretched flat, while if it's too close, the sag will be too deep.
3 – Know How Many Will Use It
While hanging in a hammock alone, in total relaxation, is common place, the idea of accommodating more is not so strange at all. Most hammocks are perfectly capable of holding two people, but it might be worth getting a larger hammock so as to accommodate the kids too. Keep in mind, though, that there is generally a weight limit of 250kg – so families of 10 might be a stretch!
4 – With or Without Spreader Bars
If you have a family, then it is not a good idea to forgo the spreader bars at either end of the hammock. These spread the hammock out and lessen the sag, which is ideal if children are to use. Many kids tend to have difficulty getting out of them when they are drooping too much.
It is a matter of preference for adults, however, with spreader bars preferred by those who like a firmness underneath, while the best hammock for others lets them just sink in.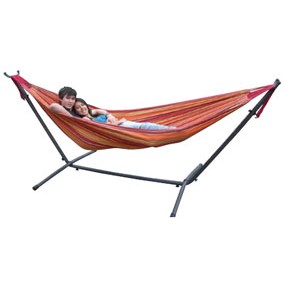 5 – Consider a Hammock Stand
Of course, the issue of where to put the hammock is settled in one swift move when a hammock stand is included. This means that you don't even need trees or posts, just enough space to erect the stand in. So, even on a beach where there are dunes but no palm trees, you can swing in the sun. Larger hammocks tend to come with stands too, to ensure suitable strength.
The truth is that there is a wide variety of hammocks to choose, so taking a little time to consider the options before buying is a wise choice. After all, you don't want to head to the beach with a string hammock only to find you could have done with a hammock stand too!
The five pointers we've given will help you in picking the best hammock for you, and to avoid such kinds of disappointment, and others.