Fritatta is an Italian word for omelette. As fritattas are prepared uniquely and differently as compared with omelettes, I'd say fritattas are just perfect for breakfast, brunch, lunch, and even dinner. This can also be served as an appetizer or an entrée.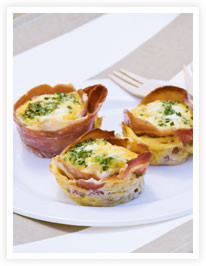 This dish is up to 8 servings!
INGREDIENTS:
8 slices of Prosciutto ("ham")
1/3 cup or 55 grams of Peas (frozen)
40 grams of Feta – "Greek cheese" (crumbled)
1 Tablespoon of Chives (finely chopped)
4 pices of Eggs (lightly whisked)
2 Tablespoons of Thin cream
METHOD:
1. You should prepare to preheat the oven to 160°C. You should then line the base as well as the sides of eight 1/3 cup (80ml) capacity muffin pans with the slices of prosciutto ("ham").
2. Afterwards, spoon the peas, feta, and the chives equally amongst each pan. You may use a fork to lightly whisk the eggs and the cream together inside a jug or any container. You can season it using salt and pepper then pour it out evenly among the muffin pans.
3. After having done those, bake it in a preheated oven for around 20 minutes or until it has just set in.
4. After the 20 minutes have passed, you may now remove it from the oven and set aside to cool down.
5. Finally, put them in the fridge in order to chill.
Let's get ready to eat!