Who loves peanut butter? I do! Hmmm, anyone who is a sucker for peanut butter will surely love this recipe! Now you know that peanut butter is not just for bread spread but can be made into a dessert bar as well. Plus the frosting on top combined with chocolate chips on it is the best! Yummy!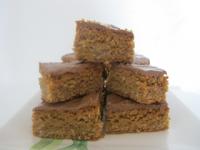 INGREDIENTS:
1 cup of Butter
1 cup of Brown Sugar
1 cup of White Sugar
1 ½ cup Peanut Butter
2 pieces of Eggs
1 teaspoon of Baking soda
½ teaspoon of Salt
1 teaspoon of Vanilla essence
2 cups of Flour
2 cups of Oats
METHOD:
1. Heat up 24 Beads for a 12-inch Camp Oven. The oven temperature must be 180°C/350°F. You can use a thermometer for more accuracy.
2. Check on the heat beads. If the beads are white, put down six and then place 18 on the lid in order to preheat.
3. You should then grease a 12-inch or 14-inch Camp oven – It is optional to line the bottom with a baking paper
4. Mix 1 cup of each butter, brown sugar, white sugar, and the peanut butter. Now you have cream butters and sugars.
5. Add in the eggs as well as the vanilla essence. Mix them well.
6. You should now sift the flour and the baking powder into the bowl or a container. Add the 2 cups of oats and half a teaspoon of salt. Combine them all and mix well.
7. Press out in the camp oven. You may flour your hands a bit because it may be sticky.
8. Afterwards, bake the mixture at 180°C/350°F. You should check it for about 15 minutes. If it is still very soft, you can give another 10 minutes to be baked perfectly. Do not over-bake or it can surely get dry.
9. Just leave it for about 5 to 10 minutes to cool down in the camp oven. Then you can now tip it out and place onto a rack to let it cool further.
10. While cooling, you can now prepare the frosting:
Place the two cups of chocolate chips plus the ½ cup of peanut butter in a small container. Stir continuously until smooth and completely melted.
11. For the final step, cover what you have baked with a frosting. Then, cut into bars when completely cool.
Anyone, especially those with a sweet tooth will definitely love this! Enjoy!