With just the sight of the shrimp or lobster, I can't wait to grab and munch on this dish. This recipe is so tasty, full of flavour, colour… really, I'm at a loss for words because just imagining the outcome, it is just so mouth-watering because I am a seafood and pasta lover! I totally love the mixture of the shrimp, garlic, zest of the lemon, and perhaps a little white wine, too. It's just undeniably delectable. Just perfect even when you're out camping.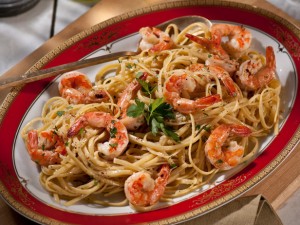 INGREDIENTS:
1 Tablespoon of Kosher salt (plus 1 ½ teaspoons)
¾ pound of Linguine
2 ½ Tablespoons of Good olive oil
3 Tablespoons of Butter (unsalted)
2 Tablespoons or about 4 ½ cloves of Garlic (minced)
1 pound or about 16 pieces of Large shrimp (peeled, deveined, and without tails)
â…" cup of Fresh parsley leaves (chopped)
¼ teaspoon of Freshly ground black pepper
½ piece of Lemon (zest grated)
¼ cup of Freshly squeezed lemon juice (use around 2 lemons)
â…› teaspoon of Hot red pepper flakes
2 Tablespoons of Heavy cream
DIRECTIONS:
You should drizzle some oil in a large pot of boiling salted water. Add in 1 Tablespoon of salt along with the linguine and then cook for about 7-10 minutes. You may also cook it according to the directions on the box.
On the other hand, using another large or just about 12-inch of a heavy-bottomed pan, you should melt the butter and the olive oil over medium-low heat 2-burner or 3-burner camping gas stove.
Now, add in the garlic and sauté for about 1 minute. If it caramelizes, it will definitely tastes just as good.
Next is to put in the shrimp, 1 ½ teaspoons of salt, the cream as well as the pepper. Just sauté right up until the shrimps have just turned pink for roughly around 4 minutes while frequently stirring.
Afterwards, you may already remove from the heat then add the parsley, lemon zest, lemon juice, lemon slices, and the red pepper flakes. Toss to combine all of the ingredients.
At this time when the pasta is already done, you should drain the cooked linguine and then put it back inside of the pot.
You must immediately add the shrimp to sauce and then put some pepper and salt to taste before serving!
Now, we're all ready to eat!