I am pretty sure that this recipe will be loved by many especially those who love anything baked with cinnamon with it. Just like Mum, she likes and loves cinnamon so this dessert is absolutely perfect! You can make this easy, tasty, delightful, and delectable recipe even at very last minute! So, hurry and bake one now!
This dessert is surely a very easy-to-make recipe. Something that you can do even at the very last minute! This recipe makes about 2 servings!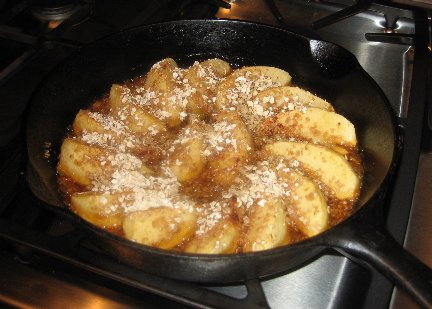 INGREDIENTS:
2 pieces of Large baking apples (peeled and cored)
3 Tablespoons of Butter
¼ cup of Rolled oats (must be quick-cooking)
¼ to ½ cup of Brown sugar (firmly-packed)
Ground cinnamon
PREPARATION:
1. You should preheat the oven to 350°F.
2. Now, you should cut the apples into thick slices.
3. Using your cast-iron skillet (By the way if you have one, I suggest use this because I like to use my 10-inch cast iron skillet – the best!), you should melt the butter. On the other hand, you can also use any baking pan or your oven or even on your stovetop.
4. Then, you may layer the apple slices on top of the melted butter.
5. Next is to sprinkle them with rolled oats, brown sugar as well as the cinnamon.
6. At this point, you should bake it for roughly around 20-30 minutes or right until the apples are tender when you poke it using a knife.
7. After around 20 to 30 minutes, you may remove it from the oven and serve warm.
Enjoy this tasty delightful dessert!