This delectable recipe is best served when warm especially during breakfast. You may accompany it with honey or simply just an accompaniment to various savoury dishes as well as salads. You can also put some chopped nuts like hazelnuts or almonds. Yum! Yum!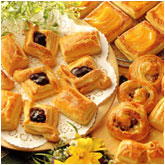 INGREDIENTS:
80 grams of Sugar
350 grams of Water
30 grams of Custard Powder
100 grams of Fresh Milk
200 grams of Raisins
50 grams of Apricot Gel
1 piece of Dough sheet (see recipe for croissant)
INSTRUCTIONS:
1. First, you need to prepare the custard. To be able to do this, mix the sugar, water, custard powder, and the milk then bring the mixture to boil. Cool the custard before use.
2. Spread out the custard evenly on the dough sheet of about 3 to 4mm of thickness.
3. Now, you may sprinkle the raisins over and roll the sheet.
4. Afterwards, cut the roll into portions of about 2cm thick.
5. Put the rolls on a baking tray and then cover using a moist cloth. Allow it to rise for about 2 hours at room temperature.
6. You can now preheat the oven to 200°C.
7. Next is to glaze it with egg wash and then bake for around 20 minutes in the preheated oven.
8. Finally, after having it baked, you can now glaze it using the melted apricot gel.
Now, isn't that yummy?!… Tasty!